Problem Paint Solutions
Painting Info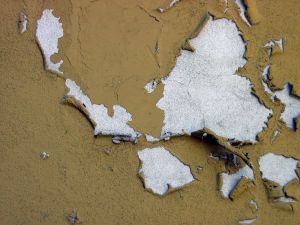 Learn how to deal with common paint problems.
Peeling Paint:
Scrape, sand, clean, prime and paint 2 coats; Always wera protective gear - clothing, safety goggles and a respirator rated to protect against whatever substances you are dealing with. Determine if the possibility of lead paint exists and always comply with all Local, State and Federal Laws AND use common sense for your safety and the safety of others.
Water Stains:
On unfinished plaster - apply a bleach solution from a spray bottle, continue to apply until the stain is gone or minimized(be sure to take precautions, bleach can be dangerous to health and property);
On painted surfaces - Prime with an oil based "primer - stain blocker", let dry completely, prime again if necessary and put 2 coats of finish paint on top to blend with existing paint;
Mildew:
Apply a bleach solution, reapply if needed and scrub with the bleack solution if needed (pressure wash exteriors)(be sure to take precautions, bleach can be dangerous to health and property);
"Bleeding" Stains:
Most wood bleed requires the application of an alkyd Primer - stain killer"; Pine knots need to be spot primed with an Alcohol based primer such as Zinsser's BIN
Back to: Do It Yoursel Painting Info